Do you need local movers in Alpine, NJ? Far from the average small town New Jersey suburbs, Alpine is a unique Bergen County town. Not only is it one of the most expensive zip codes in the state, with Alpine NJ real estate prices significantly higher than that of neighboring towns, but its easy access to the beautiful Palisades Interstate Park overlooking the Hudson River makes it an extremely desirable location.
What Makes Alpine NJ Special?

One of the most unique elements of the town is the seemingly unusually high amount of famous Alpine residents. From entertainers like Chris Rock, Lil Kim and Tracy Morgan to athletes CC Sabathia and Chris Canty, many people living in Alpine have spent years in the spotlight. 
Another interesting facet of Alpine, NJ, is the town's lack of a main street. With a very limited number of restaurants and bars within the town limits, Alpine is certainly not known for its nightlife. Rather, it is, more or less, strictly a residential neighborhood. This is not necessarily a bad thing, as it gives people increased privacy, but it is certainly something you should be aware of before moving to Alpine. 
Residential Moving in Alpine, NJ

If you're looking for a moving company to help you move into Alpine, look no further than the team at Freedom Moving and Storage! Whether you're moving long distance or locally, we can get you comfortably settled into your new home in Alpine, NJ. With over 80 years of experience moving families into new homes, the team of movers at Freedom Moving and Storage is completely confident in our abilities and know we will provide you with a top-quality moving experience. 
At Freedom Moving and Storage, we understand that moving day can be an extremely stressful time for families; we've seen it first hand. Because of this, our white glove moving services are always efficient, professional, polite, and precise. The last thing you'd want is for your moving company to add to your stress levels. 
Choose Freedom Moving and Storage as Your Alpine Movers

As you prepare to pack up your current home and move to your new address in Alpine, New Jersey, you'll quickly realize that it is too big of a job to tackle on your own. Thankfully, the team at Freedom Moving and Storage have your back. In addition to the group of reliable and professional movers we have on staff, we are a Mayflower agent, meaning we will be able to come to your current home with a Mayflower moving van, which will only make the process of moving from one home to another easier! 
Not only will the team at Freedom handle loading up and driving the van, but let us take care of unloading it at your new Alpine location and bringing everything into your brand new house. You've got enough on your plate as you move; let us handle the physical labor. 
If you're interested in learning more about how Freedom Moving and Storage can effectively help you get moved into your new home in Alpine, New Jersey, reach out today for a complimentary consultation! We look forward to hearing from you and we cannot wait to get you officially settled into your new Alpine home! 
Who Says Moving Is A Freeing Experience?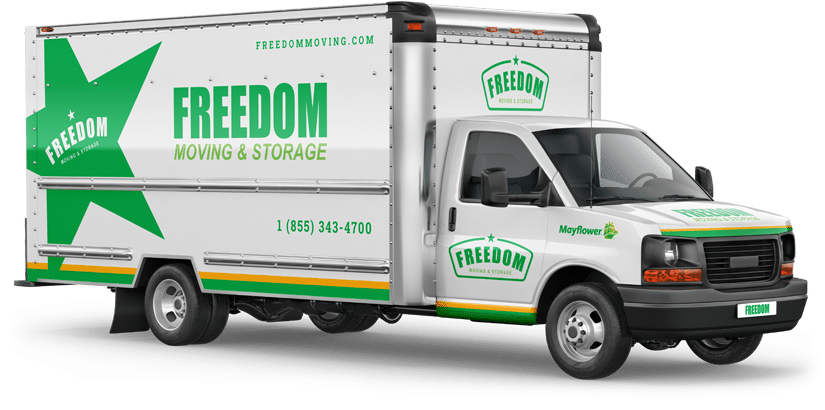 From your first moving consultation, our team of seasoned New Jersey and New York moving professionals make your home or office transition seamless and 100% stress-free.