Local Moving Services with Freedom Moving & Storage
Make your local move hassle-free with Freedom Moving & Storage's local moving services. Our experienced team of professional movers works with you to efficiently plan and execute your upcoming local move.
Reliable Local Moving Services
A local move is considered a move occurring within a 50-mile radius. This can be a move just one city over or even down the street from your past home.
Preparing for a local move on your own can be a time-consuming process – especially if you don't have the right equipment to tackle the task.
Freedom Moving & Storage provides reliable local moving services with professional moving equipment. This allows us to complete your local move faster, letting you get back to your life sooner.
At Freedom, we understand the significance of entrusting your belongings with us, which is why we take great pride in our work. Each of your belongings is treated with special care, granting you peace of mind during your local move.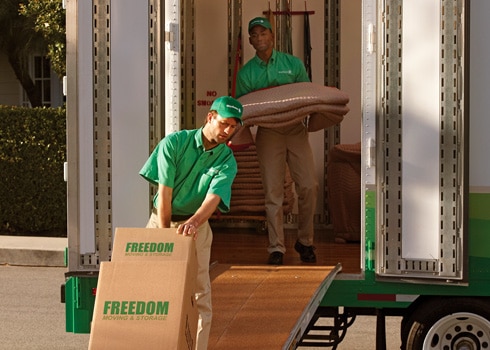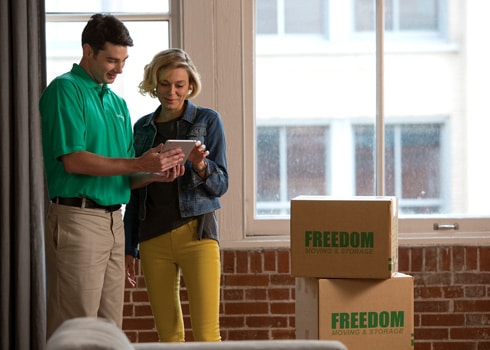 Freedom Makes Your Local Move Easy
Local moves are made easy with Freedom Moving & Storage's experienced moving team. Whether you're needing boxes or secure packing equipment, Freedom has everything necessary to complete your move from start to finish.
Our full-service local moving packages are great for those needing more than just transport. Freedom also offers a large selection of additional moving services that can be customized to your needs.
Freedom's Commitment to Moving Excellence
To show our customers how much we value providing quality moving services, we uphold ourselves to the industry's highest standards.
Each Freedom employee must be drug tested and background checked before being hired. Freedom Moving & Storage also conducts regularly scheduled training sessions to improve your level of service and safety during your local move.
Over 80 Years in Local Moving Experience
Choosing an experienced local moving company reduces your stress during a local move. Freedom Moving & Storage has provided reliable local moving services since 1939.
We are a third-generation professional moving company in New York & New Jersey that's focused on more than just moving furniture – we focus on moving families.
We take these extra steps to protect you because we care about your moving experience. Freedom Moving & Storage wants you to have a safe and successful move completed on time with professional movers you can trust.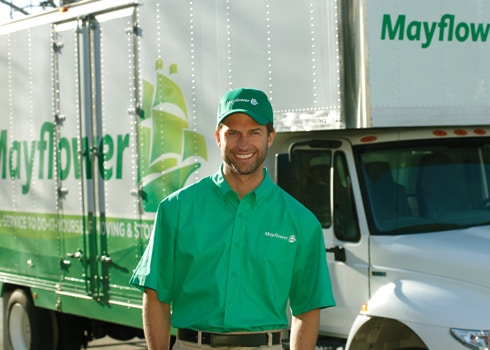 Full-Service Local Moving Packages
Stay on top of your move with Freedom's local packing and moving services. We use our over 80 years of moving experience to make your move as painless as possible.
Freedom Moving & Storage is proud to offer a variety of additional moving services, which can be customized to your exact needs. Let us check off your to-do list so you can focus on what's important.
Other Residential Moving Services
Residential Areas We Serve
Freedom Moving & Storage is proud to provide residential moves in New Jersey, New York, and Long Island. We are a third-generation moving company that's dedicated to moving your family safely and efficiently.
Freedom uses our proven residential moving techniques to ease your New York or New Jersey move.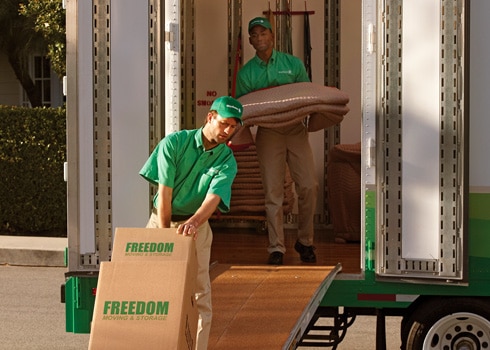 Ready to Get Moving? Get Your Free Residential Moving Quote
Start planning your residential move with Freedom Moving & Storage today! Request a free quote to learn more about what we can do for you during your residential move.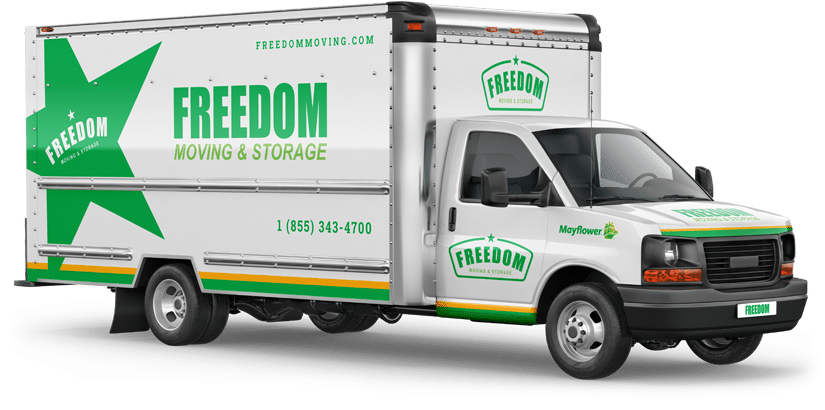 From your first moving consultation, our team of seasoned New Jersey and New York moving professionals make your home or office transition seamless and 100% stress-free.