Chatham Township NJ Movers
Freedom Moving & Storage has been providing Chatham Township movers with quality, affordable moves for generations. We know the area and its people and better than anyone which makes us uniquely qualified as a local, long distance, and international moving company. So whether you're moving your family or your business, we're the Chatham Township moving company for you. Call or fill out our form for your quote today.
What makes Freedom Moving & Storage the moving company that stands out from the rest? It's simple – better crews, professional move coordinators, training, and coverage equals better moving services. We keep families moving 365 days a year, hassle-free, hands-free, every time.
Every move, every customer, truly matters.
For nearly 100 years, Freedom Moving & Storage has provided the residents and businesses of Chatham Township with flexible, affordable moving services. We know how big of a stress moving can be, even if it's just down the street. That's why we're committed to taking the stress out of your moving experience. It doesn't matter if you're moving across the street or across town, Freedom will ensure your next move will be the easiest move you'll ever have. Fill out our form to receive your free quote today!
Freedom Moving & Storage is a proud partner of the Mayflower Moving network, the most trusted long distance moving network in the country. We've got the enthusiasm and knowledge of a local New Jersey moving company with access to resources of a nationwide network. No matter where you're moving, you can trust Chatham Township's premier long distance movers to get you there. Fill out our form to receive your free moving quote today.
Being a business ourselves, we understand that the most important part of a commercial move is getting back up and running as soon as possible. That's why our commercial movers are trained with efficiency in mind so we can get you from point A to point B as fast as we can. Your operations will be up and running in no time. Whether it's office moving, employee relocations, industrial moving, or whatever else, we're the commercial moving company for your business. So fill out our quote to or give us a call today!
For most of us, the need for storage is inevitable. Whether you need to store your items during a move or just need a space to keep the clutter, Freedom has the storage solutions you need. We provide both short-term and long-term storage in our secured, climate controlled facilities. Give us a call or fill out our form to learn how Freedom Moving & Storage can help you today!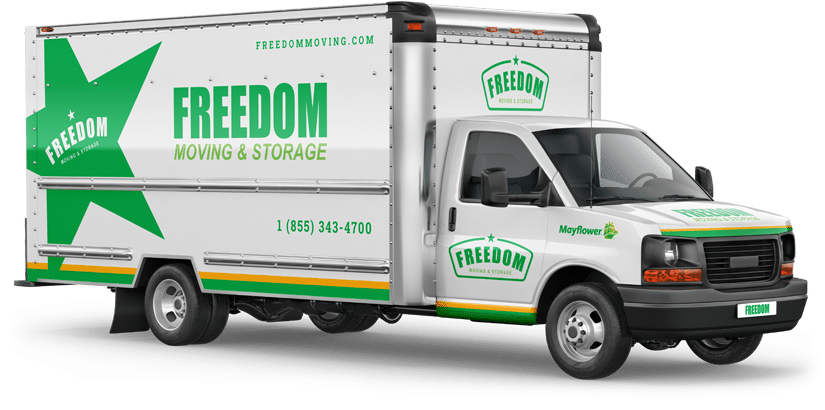 From your first moving consultation, our team of seasoned New Jersey and New York moving professionals make your home or office transition seamless and 100% stress-free.