Freedom Moving & Storage is a third generation professional moving company in Hoboken, NJ. We know from experience just how stressful moving can be no matter what size move you have. But with Freedom Moving & Storage you and your family are always in good hands whether you are moving across town or across the country. Our guys know New Jersey and NYC inside and out. Our moving crews are the best in Hoboken and we strive to take moving to a whole new level. We are committed to being the premier moving company for New Jersey and New York City homeowners and businesses.
What makes Freedom Moving & Storage the moving company that stands out from the rest? It's simple – better crews, professional move coordinators, training, and coverage equals better moving services. We keep families moving 365 days a year, hassle-free, hands-free, every time.
Every move, every customer, truly matters.
We understand that moving is a time-consuming experience, even if it's just down the street. That's why we train our movers and packers with efficiency in mind. We aim to make your move a hassle-free endeavor. Whether your local move is from a studio apartment or a 5 bedroom house, we have the packers, crews, trucks, and solutions to make your move to your new home a freeing experience.  Fill out our form to receive your free quote today!
In addition to quality local moving services, Freedom Moving & Storage is one of the most trusted long distance movers in New Jersey and NYC. As agents of the Mayflower Moving system, we have access to resources from the country's premier long distance moving network. Freedom offers efficient, quality moves from Hoboken to anywhere in the nation. Fill out our form to receive your free moving quote today.
At Freedom Moving & Storage, we have nearly a hundred years of commercial moving experience. We understand the most important thing for your business during a move: getting back to work ASAP. That's why the training of our movers and packers emphasize efficiency so that your downtime is minimized and your company can get back up and running in no time. Our services range in everything from office moves, industrial equipment and machinery to schools, libraries, hospitals, and much more. Fill out our quote to or give us a call to find out how Freedom Moving & Storage can serve your business.
Not every move as simple as door-to-door. Oftentimes, homeowners need to store their items until their new home is ready or while they sell their old home. If you require storage solutions, Freedom Moving is here to help. We offer secured, climate controlled storage options at affordable prices for almost any budget. Give us a call or fill out our form to learn how Freedom Moving & Storage can help you today!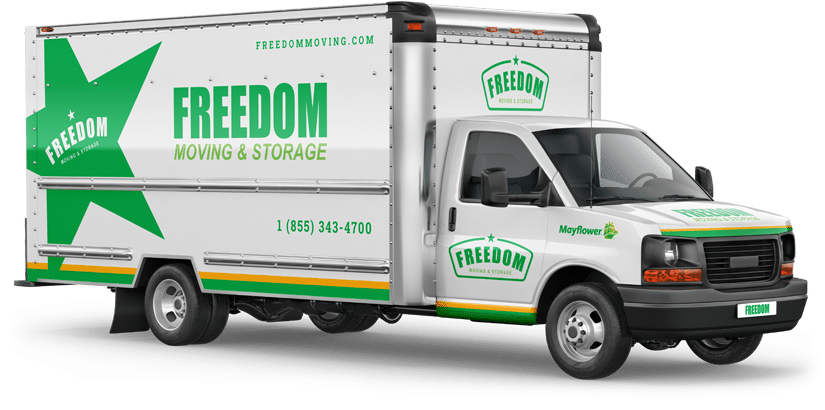 From your first moving consultation, our team of seasoned New Jersey and New York moving professionals make your home or office transition seamless and 100% stress-free.