Local Movers Providing Turnkey Moving and Storage Solutions
If you need an efficient and reliable moving company in Bellmore, NY, Freedom Moving & Storage is the name to trust. We go the extra mile, providing custom solutions and ensuring a safe and hassle-free relocation to your new home or office. 
Moving to a new location in Bellmore can be challenging. You must deal with congested traffic, limited parking spaces, narrow streets, and extreme weather conditions like snowstorms and heavy rain. As the trusted Nassau County movers near Bellmore, NY, our team has the experience and capacity to handle these challenges.
At Freedom Moving & Storage, we take pride in our commitment and professionalism, providing reliable moving and storage solutions. We value punctuality and work hard to exceed your expectations and move timelines.
We are reputable movers in Bellmore, NY, who have an in-depth understanding of the streets and neighborhoods in this area. This allows us to navigate through the community efficiently, which can help reduce delays, secure your belongings, and ensure a smooth transit into your new home.
Moving Company in Bellmore, NY
Expert Packing and Unpacking Services for a Hassle-Free Move
Residential Moving in Bellmore, NY
Commercial Moving in Bellmore, NY
Storage Services in Bellmore, NY
When it comes to residential relocations, our certified team is here to provide a hassle-free and seamless customer experience. As a trusted moving company in Bellmore, our team has the expertise and efficiency to pack, transporting, and unpack your belongings with meticulous attention to detail. We help you navigate the complexities of the moving process, making everything hassle-free. We use industry-standard materials to ensure the safety of your belongings. You can trust that our team will handle your items with utmost care. We tailor our services to your needs, providing personalized and professional care for your belongings.
Freedom Moving & Storage is the name you can trust if you need long-distance movers in Bellmore, NY. When it comes to commercial moving, we aim to provide an efficient transition to your new place of business. We understand that you need to get back to business as soon as possible, so we provide custom solutions tailored to your business needs, reducing downtimes. We are known for executing timely and organized relocations into new commercial spaces. We do all we can to accommodate your schedule and minimize disruptions to your operations.
As full-service movers near Bellmore, NY, our team provides convenient and secure solutions for your furniture, equipment, supplies, and belongings. Our state-of-the-art facilities are equipped with access controls, security, and surveillance systems. We provide short- and long-term storage solutions where your items are kept safe and secure in a clean and climate-controlled environment. Freedom Moving & Storage offers flexible storage options to meet your needs and budget, accommodating your specific requirements with enough capacity to house your belongings.
Specialty Moving Solutions in Bellmore, NY
Full Service Packing Company in Bellmore, NY
Car Transport Services in Bellmore, NY
Freedom Moving & Storage is one of the movers in Bellmore, NY, that provides specialized moving services to ensure the proper and safe transport of valuable goods, delicate property, and oversized items. Our experienced team is equipped to handle anything from fine art to sensitive electronics.
As a reputable full-service moving company in Bellmore, NY, we provide comprehensive packing solutions to ensure safe and secure relocation. Our team is well-trained and uses quality packing materials to safeguard your possessions. Each customer has unique needs, and we provide custom flexible solutions.
Freedom Moving & Storage is one of the trusted long-distance movers in Bellmore, NY. Our team can move your vehicle over long distances and across state lines. We handle all the details of the logistics and transportation, transporting your vehicle securely, which helps prevent wear and tear and mileage accumulation.
Why Choose Freedom Moving & Storage as Your Movers in Bellmore, NY
Seamless and Efficient Relocation and Storage Services
We Have 8,000 Moving Trucks
With over 8,000 trucks and vehicles in our fleet, we can offer unmatched services and advantages for your relocation. Our team at Freedom Moving & Storage can ensure an efficient and timely move scaling our solutions using trucks and other vehicles to accommodate any capacity requirement.
With over 80 years of industry experience, we have the expertise and experience you can trust. Our team has built a reputation for reliability for over eight decades. We have adapted to our customers' ever-changing needs, providing solutions to handle any challenges that may come along the way.
Our family-owned business brings a wealth and legacy of exceptional customer service through three generations. We have a deep-rooted knowledge of the needs of our customers, understanding their challenges and needs. This customer-focused approach is part of our multi-generation values and commitment.
The Customer is Always Right
Freedom Moving & Storage is your reliable long-distance moving partner. With an extensive network of facilities, vehicles, and resources, our long-distance movers in Bellmore, NY, can move your belongings from coast to coast. Our extensive capacity allows us to coordinate complex logistics providing dedicated support throughout the moving process.
Unlike other moving companies in Bellmore, NY, you benefit from our extensive network, comprehensive services, and dedicated support. We use a personalized approach to provide tailored moving and storage solutions catering to your specific needs, timelines, and unique circumstances. Our adaptability and flexibility make the difference.
As one of the leading moving companies in Bellmore, NY, our Freedom Moving & Storage team provides cost-effective and comprehensive full-service moving solutions to ensure a seamless customer experience. This service level allows you to focus on other essential aspects of your move. Leave the nitty-gritty details to us, and we'll handle all the heavy lifting to make the entire process convenient for you.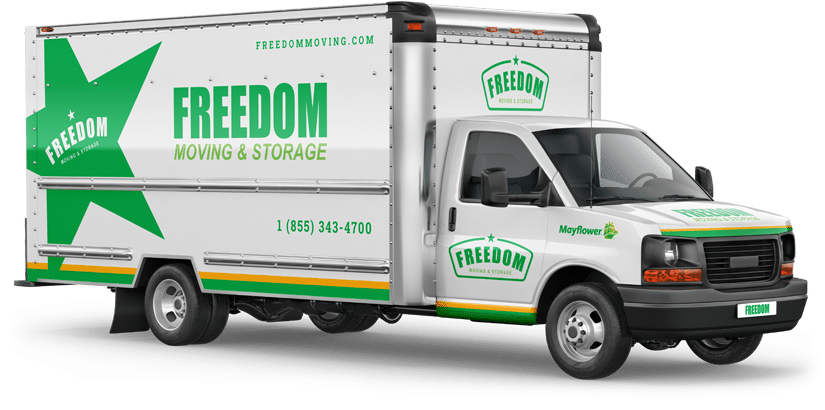 From your first moving consultation, our team of seasoned moving professionals make your home or office transition seamless and 100% stress-free.
What Our Customers in Bellmore, NY are Saying
"Ken helped set my parents up for a move from Bronx NY up to my new home in Granville NY, about a 4 hour trip. The team they worked with (Eric's Group) was very professional, prompt and efficient in helping them load up from their townhome into our 1850's farmhouse. Everything arrived in good condition, and the movers were gentle with fragile items and very friendly. It was a smooth moving process and easy for them to navigate as an older couple. Highly recommend them to anyone who needs to move."
"Excellent crews took good care of our stuff. Highly recommend. They have been great from beginning to end and very responsive to all my annoying questions and concerns"
"Moved from NJ to TX and was very impressed with entire process from the estimate provided by David, negotiation process offered by Daniel and the driver Israel and his crews both ends were clearly very experienced. Marivel was our moving coordinator and was able to answer all my questions. We have moved, including internationally several times and this is the first move ever were absolutely nothing was damaged! Will definitely use for our next move."