Local Movers Who Offer Custom Solutions and Storage Options
Make your transition to or from Briarcliff, New York, a breeze with the assistance of Freedom Moving & Storage.
As a respected moving firm in Briarcliff, NY, we offer a comprehensive array of relocation services, catering to both local and long-distance moves. Our service repertoire encompasses tailor-made storage solutions, proficient packing services, and dependable transportation.
With a wealth of experience spanning more than 80 years in the industry, we've refined our expertise to provide outstanding services to households and businesses alike. Whether it's the transfer of your residential furnishings or the safe conveyance of delicate stock, our committed team is at your service.
Opting for our Briarcliff, NY movers guarantees you professional guidance and unwavering assistance all through the packing and moving process. Don't hesitate to reach out for expert support with your next move.
Your Local Moving Company in Briarcliff, NY
When You're Ready to Move, We Get Moving
Residential Moving in Briarcliff, NY
Commercial Moving in Briarcliff, NY
Storage Services in Briarcliff, NY
Moving your entire household to a new city or state is a substantial endeavor, but you don't need to tackle it solo. Allow our seasoned Briarcliff, NY moving experts to lighten your load.
Our expertise lies in managing the strenuous aspects, encompassing packing, loading, and transporting, granting you the freedom to concentrate on other vital facets of your move. Rely on us to manage the logistics while you dedicate your attention to acclimating to your new residence.
If you're considering enhancing your office environment or shifting to a strategically advantageous site, our proficient Briarcliff, NY movers stand ready to lend a hand.
Armed with experience in managing various types of commercial goods and office furnishings, including showcases, workstations, meeting tables, and more, we guarantee a smooth corporate transition. Place your trust in our skilled and adequately equipped crew to execute your office relocation with meticulousness and consideration.
Discovering a reliable storage and relocation firm in Briarcliff, NY, is straightforward. Our cutting-edge storage centers in both New Jersey and New York are crafted to accommodate a multitude of items, spanning diverse shapes, categories, and dimensions, be it for domestic or corporate use.
Reach out to us without delay to delve into our customized storage remedies tailored precisely to meet your requirements.
Specialty Moving Solutions
Full-Service Packing Company
Preparing for a coast-to-coast relocation? Our committed crew of long-haul movers in Briarcliff, NY, is at your service. Whether you require the conveyance of priceless artwork or any other distinct specialty possessions, we possess the knowledge and tools to guarantee a seamless and safe transfer. Capitalizing on our substantial know-how and specialized gear, our long-distance moving experts near Briarcliff, NY, will extend to you remarkable assistance and customized resolutions for your distinct relocation prerequisites.
Getting ready for a relocation, whether to a fresh home or office, can be quite an endeavor, demanding meticulous packing and access to proper supplies. Here at Freedom Moving & Storage, we recognize the significance of safeguarding your possessions throughout the move. This is precisely why we present an extensive selection of packing materials and employ skilled packers to lend a hand. Reach out to our Briarcliff, NY, moving company today to have a conversation about your packing requirements, assuring a well-structured and hassle-free move.
When preparing for a long-distance move, it's crucial to factor in the welfare of your vehicle. Rather than subjecting your car to the wear and tear of cross-country travel, consider our dependable car transport service. By selecting our long-distance moving services in Briarcliff, NY, you can guarantee the safe arrival of your vehicle at your destination in prime condition. Don't hesitate to contact us today for additional details regarding our vehicle transportation services.
Why Choose Freedom Moving & Storage as Your Movers in Briarcliff, NY
Rely on Local Movers Who Have Kept on Moving for 80+ Years
We Have 8,000 Moving Trucks
We've Been in Business Since 1939
3rd Generation Family Ownership
As an accredited representative of Mayflower Van Lines, we possess the tools and resources to manage the transportation demands of both corporate and residential clients. With a diverse fleet of moving vehicles at our disposal, we are readily equipped to cater to the unique requirements of our customers. Whether it's a business transition or a residential move in Briarcliff, NY, our team of skilled movers will expertly match the most suitable vehicle to your relocation, ensuring the optimal transportation solution for your needs.
For more than eighty years, Freedom Moving & Storage has proudly served as a respected presence in New York's moving and storage sector. Our enduring achievements are a reflection of our steadfast commitment to delivering outstanding moving services and dependable storage options. When you opt for our team of movers in Briarcliff, NY, anticipate a seamless and hassle-free relocation experience. Contact us today to encounter our exceptional service in person.
At Freedom Moving & Storage, we find deep satisfaction in our status as a family-owned and operated enterprise. Our team comprises dedicated individuals who have been integral to our success for numerous years. We've cultivated a corporate culture that promotes a sense of kinship, and our warm-hearted staff is ready to lend a helping hand with a friendly smile. Much like we cherish our own belongings, we extend the same level of care and diligence to safeguard your possessions during every phase of the moving journey. You can rest assured that your move will receive the same meticulous attention as if it were our own, ensuring a smooth and stress-free experience.
We Will Move Anything Anywhere
We Have 800 Locations Nationwide
The Customer is Always Right
Our wide-ranging services are adept at addressing the distinct requirements of both homeowners and businesses. Whether you're in the midst of transitioning to a new residence or necessitate the secure conveyance of delicate inventory from one warehouse to another, our seasoned movers in the vicinity of Briarcliff, NY, possess the knowledge and tools needed for the job. You can rely on us to adeptly handle the relocation of your substantial furniture or the transportation of your fragile goods, assuring a seamless and protected journey to your chosen destination.
Freedom Moving & Storage has an extensive network of 800 branches nationwide. Thanks to our widespread reach, we deliver accessible moving solutions for individuals making transitions between major cities and diverse destinations. Distinguishing ourselves from competitors, we place a paramount emphasis on the security and welfare of your possessions during their entire voyage. Rest assured, they stay under our vigilant watch, without any involvement from third-party service providers.
Our goal is to guarantee that each client relishes an outstanding moving journey in every dimension. Our committed crew consistently exceeds your expectations and accommodates any particular needs you might possess. Don't hesitate to get in touch with Freedom Moving & Storage and delve into our all-encompassing array of storage and moving solutions. We stand ready to aid you with your every necessity.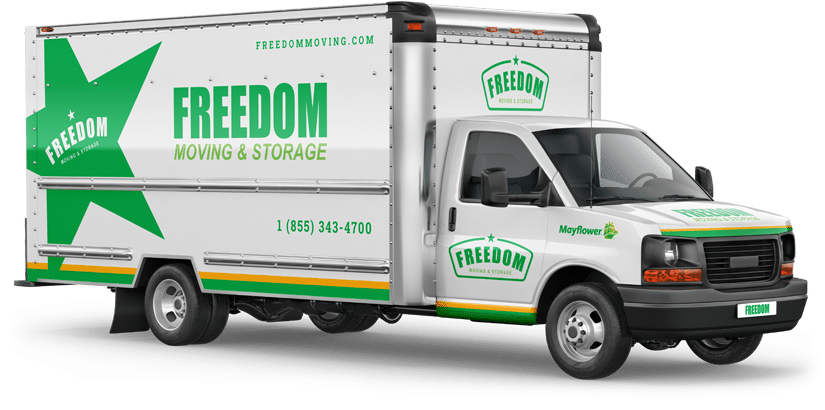 From your first moving consultation, our team of seasoned New Jersey and New York moving professionals make your home or office transition seamless and 100% stress-free.
What Our Customers in Briarcliff, NY are Saying
"Everyone at Freedom made it stress-free and painless to move. It was a big move from a house to an apartment."
"Freedom jumped right in and in four days they were at our door, ready to load the truck with our things. The men were courteous, super-fast, and careful with our furniture and our many many boxes."
"Freedom Moving and Storage took excellent care of my elderly Father's needs. Josh was organized, thorough, compassionate, and kind. His calm demeanor was such a relief. His crew was very efficient and hard working!"