Movers in East Meadow, NY
Local Movers Who Offer Custom Solutions and Storage Options
East Meadow is situated within Nassau County, which usually experiences plenty of rush hour traffic. Moving to a new place in this Hempstead hamlet can be challenging due to other factors as well.
Aside from heavy traffic, you must consider parking restrictions, seasonal weather conditions, the difficulty of coordinating logistics, and local regulations when moving to a new home or office in East Meadow. For these reasons, it is crucial to work with a trusted moving company in East Meadow, NY.
We know the challenges of relocating to a new place in East Meadow. We can help you navigate the traffic and local regulations. We aim to make moving to your new residence as worry-free as possible.
Movers in East Meadow, NY
When You're Ready to Move, We Get Moving
Residential Moving in East Meadow: Relocate with Ease
Commercial Moving in East Meadow: Minimize Downtime
Storage Services in East Meadow: Secure and Convenient
Freedom Moving & Storage professionals are trusted long-distance movers in East Meadow, NY. Our team is experienced in handling local challenges like building regulations and parking restrictions. We help you pack, load, and unpack your belongings, ensuring a smooth and efficient relocation to your new address.
As one of the leading moving companies in East Meadow, NY, we specialize in hassle-free and efficient relocation of offices and commercial spaces. We are well-equipped to handle every aspect of your move to a new business location. We move you quickly and efficiently so you can resume operations as soon as possible.
We are full-service movers near East Meadow, NY. Whether you're renovating, relocating, or downsizing your operations, we can provide the extra space you need to store your belongings. We offer flexible options to store your equipment safely without straining your budget.
Specialty Moving Solutions: Handling Complex Items with Care
Full Service Packing Company: Stress-Free Moving Experience
Car Transport Services: Safe and Reliable Vehicle Shipping
Freedom Moving & Storage is one of the movers in East Meadow, NY, that provides specialized moving services to ensure the proper and safe transport of valuable goods, delicate property, and oversized items. Our experienced team is equipped to handle anything from fine art to sensitive electronics.
As a reputable full-service moving company in East Meadow, NY, we provide comprehensive packing solutions to ensure safe and secure relocation. Our team is well-trained and uses quality packing materials to safeguard your possessions. Each customer has unique needs, and we provide custom flexible solutions.
Freedom Moving & Storage is one of the trusted long-distance movers in East Meadow, NY. Our team can move your vehicle over long distances and across state lines. We handle all the details of the logistics and transportation, transporting your vehicle securely, which helps prevent wear and tear and mileage accumulation.
Why Choose Freedom Moving & Storage as Your Movers Near East Meadow, NY
Rely on Local Movers Who Have Kept on Moving for 80+ Years
We Have 8,000 Moving Trucks
Decades of Experience and Family Ownership
3rd Generation Family Ownership
We are one of the few moving companies in East Meadow, NY, equipped to handle relocations of any size. We have a massive fleet that can be used to transport large volumes of materials and equipment if necessary.
We have over 84 years of industry experience, which is a strong testament to the quality of our service. Our team understands all the hassles of relocation to a new home or facility and is equipped to handle your move.
Freedom Moving & Storage is a 3rd generation family-owned and run institution. We are building a legacy of reliable and efficient service. Our team provides top-notch service in accordance with our core values and mission.
We Will Move Anything Anywhere
We Have 800 Locations Nationwide
The Customer is Always Right
As an experienced full-service moving company, we have the expertise and equipment to handle local and long-distance moves. You leverage our facilities, equipment, and expertise to ensure a stress-free relocation to any place in the country.
Freedom Moving & Storage is strategically positioned with over 800 locations nationwide. With an extensive reach, we can provide expert services to anyone in the nation. We secure your belongings and reduce the risk of damage during transport.
At Freedom Moving & Storage, we tailor our services to your specific needs. Your satisfaction is our top priority, so we do everything we can to ensure a fast and efficient relocation using the latest tools and techniques.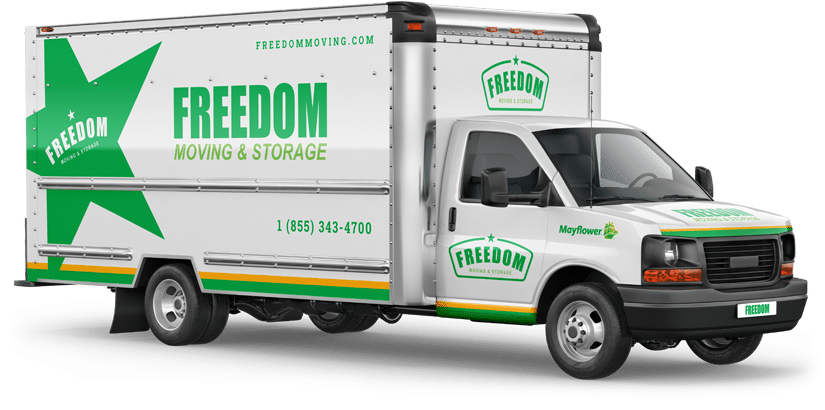 From your first moving consultation, our team of seasoned moving professionals make your home or office transition seamless and 100% stress-free.
What Our Customers in East Meadow, NY are Saying
"Everyone at Freedom made it stress-free and painless to move. It was a big move from a house to an apartment."
"Freedom jumped right in and in four days they were at our door, ready to load the truck with our things. The men were courteous, super-fast, and careful with our furniture and our many many boxes."
"Freedom Moving and Storage took excellent care of my elderly Father's needs. Josh was organized, thorough, compassionate, and kind. His calm demeanor was such a relief. His crew was very efficient and hard working!"