Local Movers Who Offer Custom Solutions and Storage Options
Located 30 miles east of Manhattan, Glen Cove is one of the cities in Nassau County that offers a beautiful waterfront location. Planning and organizing a relocation to a new office or home in this busy city can be pretty challenging, which is why getting the aid of professional Nassau County movers is essential.
Traffic congestion, parking restrictions, local regulations, and the Long Island coastal weather conditions are just some of the factors to consider when you move your belongings to Glen Cove.
Freedom Moving & Storage is a trusted moving company in Glen Cove, NY. We understand these unique challenges and are fully equipped to handle them. With our skilled movers and expansive fleet, we can handle any relocation to any part of the country.
Moving Company in Glen Cove, NY
When You're Ready to Move, We Get Moving
Residential Moving in Glen Cove, NY
Commercial Moving in Glen Cove, NY

Storage Services in Glen Cove, NY

Freedom Moving & Storage professionals is one of the trusted long-distance movers in Glen Cove, NY. We have helped hundreds of homeowners sort their belongings, organize packaging, and transport them to their new homes. We cover every detail so you can focus on more important things.
As one of the full-service moving companies in Glen Cove, NY, we have the tools, equipment, and expertise to relocate office, commercial, and production equipment. Our crew is fully equipped and experienced to safely handle and transport your belongings to your new business location.
Freedom Moving & Storage is one of the leading movers near Glen Cove, NY, offering professional storage services. We offer flexible solutions to homeowners and businesses. Our facilities provide 24/7 access to your belongings in a safe and secure environment. Choose storage units that suit your needs and budget.
Specialty Moving Solutions in Glen Cove, NY
Full Service Packing Company in Glen Cove, NY

Car Transport Services in Glen Cove, NY

If you need the services of specialty movers in Glen Cove, NY, that can handle delicate, valuable, or sensitive items, Freedom Moving & Storage is the brand to trust. Our team is trained and experienced in handling valuable items, sensitive electronics, musical instruments, and oversized equipment.
We are a moving company in Glen Cove, NY, that provides full-service packing. Our trained professionals come to your location, assess your belongings, and use appropriate packing methods. This method allows us to secure your belongings and reduce any risk of damage during the moving process.
Our professionals are trusted long-distance movers in Glen Cove, NY. We prioritize the safe transport of your vehicle during transit. We aim to provide convenient, time-saving solutions while reducing risks during pickup and delivery. We offer flexible scheduling for your convenience.
Why Choose Freedom Moving & Storage as Your Movers Near Glen Cove, NY
Rely on Local Movers Who Have Kept on Moving for 80+ Years
We Have 8,000 Moving Trucks
We've Been in Business Since 1939
3rd Generation Family Ownership
Not all moving companies in Glen Cove, NY, are equipped with an impressive fleet of service vehicles. Freedom Moving & Storage is equipped with thousands of trucks meticulously maintained to safeguard your items in transit. This capacity allows us to cater to any need you may have.
With a rich history that spans over eight decades of reliable moving services, you can trust our team to pack and deliver your belongings safely and efficiently. When you work with us, you partner with an established and reputable mover with a proven track record of invaluable expertise.
At Freedom Moving & Storage, our commitment and service are grounded on the legacy of 3rd generation family-owned leadership. We have established our roots in corporate values centered on personalized and reliable service and care. We hold ourselves up to this standard with every move we make.
We Will Move Anything Anywhere
We Have 800 Locations Nationwide
The Customer is Always Right
Our team is ready and equipped to handle your move regardless of size, volume, and destination. We provide residential and commercial customers a comprehensive suite of moving and storage services. We aim to provide a seamless moving experience when you work with our team.
Freedom Moving & Storage has an expansive network of 800 service locations nationwide. With our extensive reach, we can relocate any customer across the country. Combined with our industry expertise, we provide turn-key moving solutions tailored to your needs.
We believe that our clients needs are a top priority. We work hard to understand your needs, preferences, and expectations. Our team does its best to exceed your demands, finding solutions to your concerns and ensuring a complete and satisfactory relocation.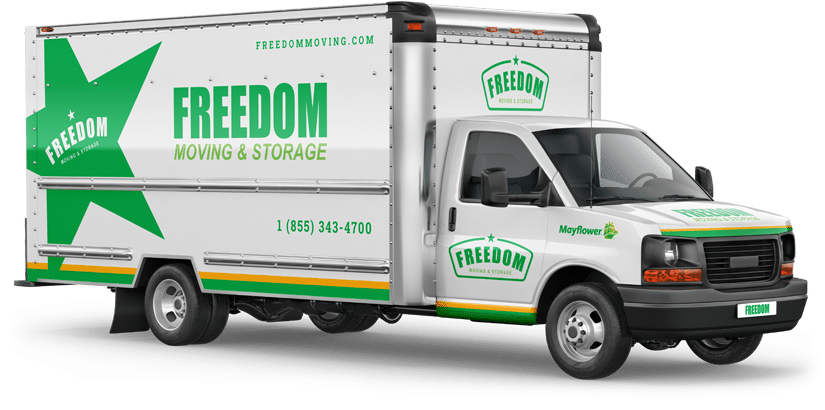 From your first moving consultation, our team of seasoned moving professionals make your home or office transition seamless and 100% stress-free.
What Our Customers in Glen Cove, NY are Saying
"Everyone at Freedom made it stress-free and painless to move. It was a big move from a house to an apartment."
"Freedom jumped right in and in four days they were at our door, ready to load the truck with our things. The men were courteous, super-fast, and careful with our furniture and our many many boxes."
"Freedom Moving and Storage took excellent care of my elderly Father's needs. Josh was organized, thorough, compassionate, and kind. His calm demeanor was such a relief. His crew was very efficient and hard working!"