Relocate Stress-Free With Our Moving Expertise
Freedom Moving and Storage is a moving company in Plainview, NY that delivers the highest quality moving and storage services. With a rich history dating back to 1939, we have been making great moves for over eight decades, establishing ourselves as a trusted name in the industry.
Our mission here at Freedom Moving and Storage is to provide unparalleled service that exceeds customer expectations. We understand that moving can be a stressful experience, which is why we strive to make the process as seamless and hassle-free as possible. Whether you are relocating locally, across state lines or even nationally, we have the expertise and resources to handle your move with utmost care and professionalism.
Residential or commercial, our dedicated team treats each customer with the utmost respect and attention to detail. We take the time to understand your unique requirements and tailor our services to meet your specific needs. 
If you are looking for movers near Plainview, NY, get in touch with Freedom Moving and Storage. You can trust us to deliver exceptional service every step of the way.
Moving Company in Plainview, NY
Unlock a New Chapter, and Let Us Handle the Logistics
Residential Moving in Plainview, NY: Relocate with Ease
Commercial Moving Plainview, NY

Storage Services in Plainview, NY

Our movers in Plainview, NY understand the importance of a smooth transition to your new home. From packing to transportation, we handle every aspect of your residential move with care and precision. As the trusted long distance movers in Plainview, NY, we ensure your belongings are safe and secure throughout the journey.
Need a secure storage solution? Our state-of-the-art facilities provide safe and convenient storage options for short-term and long-term needs. Whether you require storage during your move or need a place to store your belongings for an extended period, Freedom Moving and Storage has you covered.
Our movers near Plainview, NY understand the urgency of your commercial move. Therefore, we work efficiently to minimize downtime of your business operations. Our skilled team is experienced in handling office furniture and equipment, ensuring a seamless transition to your new location.
Specialty Moving Solutions Plainview, NY

Full Service Packing Company Plainview, NY

Car Transport Services in Plainview, NY

Our long distance movers in Plainview, NY are experienced and trained to handle specialty items that require extra attention. From fragile items to artwork and antiques, the Freedom Moving and Storage team has the knowledge and equipment to transport your valuable possessions safely.
Packing can be a time-consuming and tedious task. We are among the few moving companies in Plainview, NY that offer full-service packing options to address this issue. Our professional packers will efficiently pack your belongings, using high-quality materials to ensure their safety during transit.
When it comes to moving companies in Plainview, NY, Freedom Moving and Storage is the name you can trust. Our custom shipping services provide tailored solutions for your specific requirements. Whether you need to ship large or delicate items, our team will oversee the entire process and guarantee timely delivery. 
Why Choose Freedom Moving & Storage as Your Movers in Plainview, NY
We Redefine Your Experience From Doorstep to Destination
Serving Customers Since 1939
Family-Owned for Three Generations
Our Fleet Consists of 8,000 Moving Trucks
Freedom Moving & Storage has been serving customers since 1939. Our experience and dedication to excellence have made us a trusted name in the moving industry. We ensure a smooth and hassle-free experience for our valued customers, bringing a wealth of expertise to every move.
As a family-owned business, we understand the importance of personal care and attention to detail. Our family has been committed to providing exceptional moving services for three generations. We treat each customer like a member of our own family, ensuring their belongings are handled with the highest level of care.
With a fleet of 8,000 moving trucks at our disposal, we have the resources and capacity to handle moves of any size. Our well-maintained and reliable vehicles are equipped to transport your belongings safely and efficiently to their destination. We take pride in the quality and reliability of our fleet.
Nationwide Presence with 800 Locations
Reliable Moving Services for Any Item
Committed to Customer Satisfaction
The Freedom Moving & Storage company serves customers across the country. With an extensive network of 800 locations, you can always expect us to provide consistent and reliable services no matter where you are. Our team is ready to assist you with your moving needs.
Our experienced movers are trained in handling various items, from delicate antiques to bulky furniture. We ensure that your belongings are carefully packed, loaded and transported. No matter your items' size, shape or fragility, we are equipped to handle them all.
Customer satisfaction is our top priority, so we go above and beyond to exceed your expectations. We are dedicated to providing exceptional service from the moment you contact us until the last box is unpacked. Your happiness and peace of mind are our ultimate goals.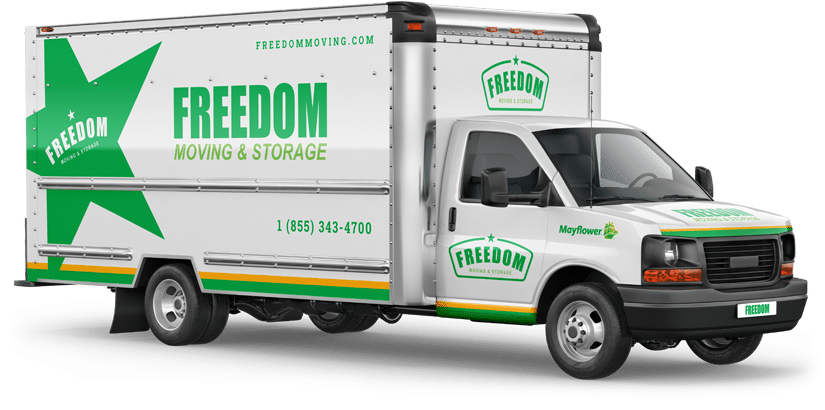 From your first moving consultation, our team of seasoned moving professionals make your home or office transition seamless and 100% stress-free.
What Our Plainview Moving & Storage Customers Are Saying
"Nothing but professionalism the entire time from booking, packing and unloading at our final destination. Moving is so stressful but this part was a pleasure. Juan Carlos Salinas was fantastic! Him and his entire team! Thank you so much!"
"Very happy with these movers. Extremely professional from booking to coordination to the actual move. They came in cheaper than other quotes and still did a 5-star job for my interstate move. Highly recommend!"
"This is a follow-up review, now that the move is completed. I moved from NJ to SD. Everything was wonderful. The office staff followed through from pick up to delivery!!! The field employees were effective, courteous and considerate. I recommend them HIGHLY!!"