A Local Moving Company Who Offers Custom Solutions and Storage Options
If you're looking for efficient and reliable movers in Sag Harbor, NY, Freedom Moving & Storage offers years of experience and a trusted name. 
The coastal environment in Sag Harbor presents some unique challenges to residential and commercial movers. Aside from the weather conditions, you need to consider the bridge traffic on the east end of Long Island. In addition, you will also have to mind zoning regulations and parking accessibility.
Freedom Moving & Storage is a moving company in Sag Harbor, NY, that understands these issues and provides solutions so you can relocate with ease. We aim to lighten the hassle of moving to your new home.
Your Local Moving Company in Sag Harbor, New York
When You're Ready to Move, We Get Moving
Residential Moving Company in Sag Harbor, NY
Commercial Moving Company in Sag Harbor, NY
Storage Services in Sag Harbor, NY
At Freedom Moving & Storage, we help you save time and effort when moving to a new home. Our trusted long-distance movers in Sag Harbor, NY, are well equipped, using sturdy packing materials, dollies, ramps, and other tools to ensure an efficient and quick move.
We offer a wide range of turnkey commercial moving services, making us one of the trusted moving companies in Sag Harbor, NY. We provide logistics, warehousing, and office relocation services for all businesses. We tailor our services to the unique needs of your enterprise.
As full-service movers near Sag Harbor, NY, our team provides robust storage solutions that benefit homeowners and businesses. We help you declutter, organize, and transition to your new location. Our facilities serve as transitional spaces, keeping your belongings safe as you manage your inventory.
Specialty Moving Solutions
Full-Service Packing Company
We understand that each customer has unique needs. For this reason, we provide custom moving solutions for residents and businesses needing movers in Sag Harbor, NY. Our team can help you remove and dispose of unwanted materials and debris. We also move fixtures, office equipment, and furniture.
As a full-service moving company in Sag Harbor, NY, we offer reliable packing services to our clients. Our team is trained to provide the utmost protection for your furniture, equipment, and other valuable belongings. We can also assist with inventory and labeling. Additionally, our team offers a specialty handling service for sensitive and fragile items.
Transporting cars over long distances can be a hassle. As trusted long-distance movers in Sag Harbor, NY, we are committed to giving you the peace of mind that your vehicle is in capable hands. We take all necessary measures to ensure a safe and efficient long-distance vehicle move.
Why Choose Freedom Moving & Storage as Your Movers in Sag Harbor, NY
Rely on Local Movers Who Have Kept on Moving for 80+ Years
We Have 8,000 Moving Trucks
We've Been in Business Since 1939
3rd Generation Family Ownership
Aside from being one of the top moving companies in Sag Harbor, NY, we are also the leading agent for United Van Lines. For this reason, we have access to thousands of moving trucks and other resources at your disposal.
When you work with Freedom Moving & Storage,  you take advantage of over 84 years of industry experience. You leverage our homegrown expertise and commitment to excellent customer service.
The longevity and success of our business are based on deep-rooted values handed down from one leadership generation to the next. We have built a reputation for world-class service and uphold these principles as we serve our treasured clients.
We Will Move Anything Anywhere
We Have 800 Locations Nationwide
The Customer is Always Right
With a network of thousands of trucks, we are more than capable of handling any cargo. We have an exceptional capacity that you won't find in many moving companies.
Freedom Moving & Storage has the advantage of 800 nationwide locations and 1,200 global sites. This reduces excess handling of your goods, reducing the risk of damage to your items.
Our goal is to provide outstanding customer service from the day you request a pickup to when we deliver your goods to your new location. Our move coordinators work closely with you every step of the way.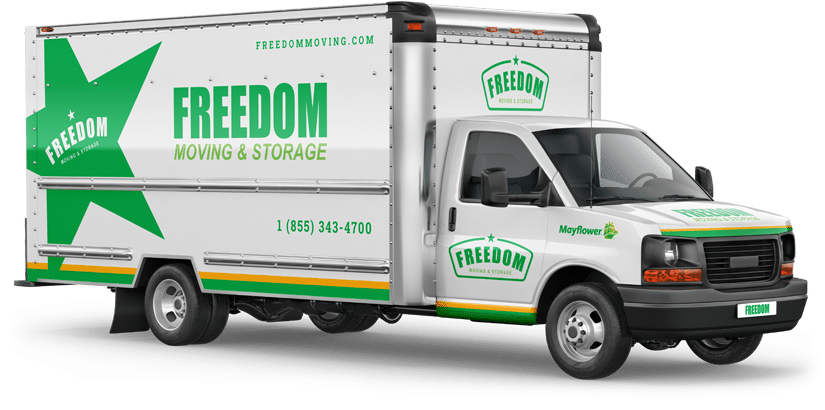 From your first moving consultation, our team of seasoned New Jersey and New York moving professionals make your home or office transition seamless and 100% stress-free.
What Our Customers in Sag Harbor, New York are Saying
"Everyone at Freedom made it stress-free and painless to move. It was a big move from a house to an apartment."
"Freedom jumped right in and in four days they were at our door, ready to load the truck with our things. The men were courteous, super-fast, and careful with our furniture and our many many boxes."
"Freedom Moving and Storage took excellent care of my elderly Father's needs. Josh was organized, thorough, compassionate, and kind. His calm demeanor was such a relief. His crew was very efficient and hard working!"