Movers in Sussex County, New Jersey
Customized Moving & Storage Solutions for People On-The-Go
Moving is a time-consuming process that can feel overwhelming, especially when you're doing it alone. As Sussex County movers, we understand the challenges that come with packing, moving, and unloading your belongings. However, you don't have to face this herculean task on your own. With the help of a reliable moving company like Freedom Moving & Storage in Sussex County, NJ, you can make your move much more straightforward.
When it comes to your move, you deserve professional assistance that ensures a smooth transition to your new location. Freedom Moving & Storage has been dedicated to simplifying the moving process for our valued clients since 1939. With our extensive experience and expertise, you can trust us to handle your move efficiently and effectively.
Your Local Moving Company in Sussex County
When You're Ready to Move, We Get Moving
Residential Moving in Sussex County: Relocate with Ease
Commercial Moving in Sussex County: Minimize Downtime
Storage Services in Sussex County: Secure and Convenient
Moving to a new home can be a stressful experience, and you want to ensure that your belongings are handled with care. At Freedom Moving & Storage, we go above and beyond to make your residential move in Sussex County as stress-free as possible. Our team understands that you're not just moving stuff; you're moving memories. With our reliable and careful approach, we aim to provide you with a seamless and worry-free moving experience.
Moving your commercial operations can be a complex task with numerous aspects to consider. Freedom Moving & Storage has the experience and resources to handle the challenges that come with commercial moves in Sussex County. We prioritize the security of your inventory and equipment throughout the entire process. Our Sussex storage facility and specialized equipment allow us to minimize losses in productivity, ensuring a smooth transition for your business.
If you require storage space in Sussex County, Freedom Moving & Storage has you covered. Our Sussex storage facilities offer a wide range of options to accommodate your specific needs. Whether you need to store excess inventory or preserve precious memories, we provide secure and convenient storage solutions. You can trust that your belongings will be safeguarded in our state-of-the-art facilities.
Specialty Moving Solutions: Handling Complex Items with Care
Full Service Packing Company: Stress-Free Moving Experience
Car Transport Services: Safe and Reliable Vehicle Shipping
Moving specialized items requires expertise and attention to detail. Whether you have valuable antiques, sensitive electronics, or other challenging items, Freedom Moving & Storage can handle the job. Our experienced team is well-equipped to manage the unique hauling requirements of complex items. We prioritize the safety and integrity of your belongings, ensuring they reach their destination without any issues.
Packing and unpacking can be the most time-consuming and stressful aspects of any move. Freedom Moving & Storage offers comprehensive packing services to make your move easier. Our team takes care of the heavy lifting, allowing you to focus on other important tasks. From packing and unpacking to furniture assembly and disassembly, we handle it all, ensuring a seamless and efficient moving experience.
When it comes to transporting your vehicle, you need a reliable company that provides hauling and storage services in Sussex County, NJ. Freedom Moving & Storage has extensive experience in transporting cars across the country. We prioritize the safety and timely delivery of your vehicle, keeping you informed throughout the entire process. Trust us to handle your car with the utmost care and professionalism.
Why Choose Freedom Moving & Storage as Your Movers in Sussex County
Rely on Local Movers Who Have Kept on Moving for 80+ Years
Extensive Resources and Infrastructure for Your Move
Decades of Experience and Family Ownership
3rd Generation Family Ownership
With an extensive fleet of 8,000 moving trucks, Freedom Moving & Storage has the resources to handle your hauling and storage needs in Sussex, NJ. Our state-of-the-art storage facility ensures the security of your belongings during transit. We take pride in our comprehensive logistics infrastructure, which enables us to provide efficient and reliable moving services to our clients.
Since 1939, Freedom Moving & Storage has been serving the hauling and storage needs of residential and commercial clients. Our long-standing presence in the industry is a testament to our commitment to excellence. 
As a 3rd generation family-owned business, we uphold the values of honesty, integrity, and reliability that our founder established. When you choose Freedom Moving & Storage, you're choosing a moving company with a rich history and a strong dedication to customer satisfaction.
We Will Move Anything Anywhere
We Have 800 Locations Nationwide
The Customer is Always Right
With a massive network of trucks and storage facilities across the country, Freedom Moving & Storage can help you move anything, anywhere around the country. Throughout the entire journey, we will communicate with you to ensure you're kept in the loop at all times.
With over 800 locations nationwide, Freedom Moving & Storage offers reliable service wherever your move takes you. Our extensive network of offices and storage facilities ensures that we can meet your hauling and storage requirements with efficiency and professionalism.
As a customer-first company, we prioritize your needs and strive to exceed your expectations. Your satisfaction is our top priority, and we are committed to accommodating your special requests and providing you with a superior moving experience.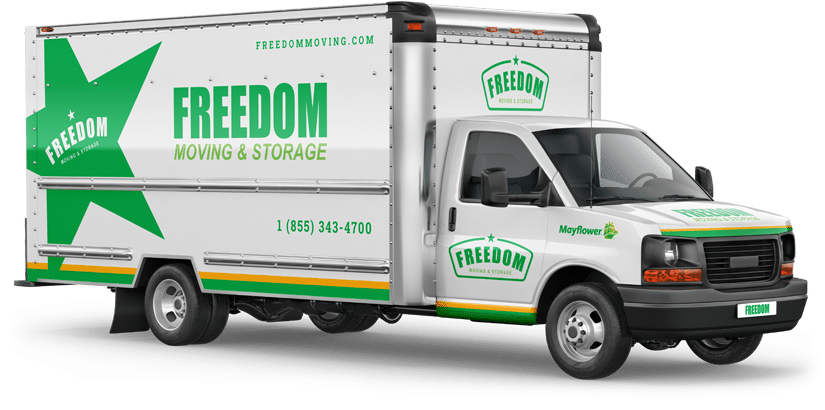 From your first moving consultation, our team of seasoned New Jersey and New York moving professionals make your home or office transition seamless and 100% stress-free.
What Our Customers in Sussex County are Saying
"Everyone at Freedom made it stress-free and painless to move. It was a big move from a house to an apartment."
"Freedom jumped right in and in four days they were at our door, ready to load the truck with our things. The men were courteous, super-fast, and careful with our furniture and our many many boxes."
"Freedom Moving and Storage took excellent care of my elderly Father's needs. Josh was organized, thorough, compassionate, and kind. His calm demeanor was such a relief. His crew was very efficient and hard working!"