Customized Moving & Storage Solutions for People On-The-Go
Moving doesn't have to be a hassle. Whether you're transitioning to a new home in the city or building a new life in a different part of the country, our long-distance movers in Water Mill, NY, are here to lighten your load.
Freedom Moving & Storage stands out from other moving companies in Water Mill, NY. We have better crews, professional move coordinators, training and coverage. It's as simple as that.
We've kept families moving since 1939. We provide hassle-free, hands-free moving services to make your move as stress-free as possible.
If you're looking for a reliable moving company in Water Mill, NY, look no further than Freedom Moving & Storage. Get in touch with us today!
Your Local Moving Company in Water Mill, New York
When You're Ready to Move, We Get Moving
Residential Moving Services in Water Mill, NY
Commercial Moving Company in Water Mill, NY
Storage Services in Water Mill, NY
Moving your entire household can involve a lot of emotions, making your move even more stressful than it already is. Freedom is committed to making your move an easier experience with the help of some of the best movers near Water Mill, NY. We take care of all the heavy lifting, from packing to hauling your stuff, to offer a more pleasurable experience.
Freedom is an experienced commercial moving company in Water Mill, NY, that understands the importance of efficiency when moving to a new office. We move fast while keeping your valuable assets protected so you can resume your business operations as soon as possible, minimizing operational downtime.
Whether you're looking for short-term or long-term storage solutions, we have the space for you. As one of the leading moving companies in Water Mill, NY, we keep your valuable possessions secure in our cutting-edge storage facility for your peace of mind.
Specialty Moving Solutions
Full-Service Packing Company
We offer flexible, specialty moving services for people who have specialized moving me and requirements. Whether you're moving your grand piano or valuable antiques, our expert movers near Water Mill, NY, will take care of your special hauling needs as you transition to a different location.
Freedom is a full-service packing company that offers a comprehensive package of services tailored to every need. No matter the size, shape or value of the goods you need to be shipped, our long-distance movers in Water Mill, NY, will take care of all your moving needs.
Driving your car across the country during your move can also be a stressful experience. Streamline your move with our car transport services. We help you maintain your car's condition while moving great distances and bring it safely to your new home.
Why Choose Freedom Moving & Storage as Your Movers in Water Mill, NY
Rely on Local Movers Who Have Kept on Moving for 80+ Years
We Have 8,000 Moving Trucks
We've Been in Business Since 1939
3rd Generation Family Ownership
Freedom Moving & Storage boasts a massive fleet of moving trucks. We are more than fully equipped to handle your hauling and transport needs, no matter the size and destination.
We have been in the business of moving and transport for almost a century. Through this time, we have built a reputation of quality and reliability through the hard work we've provided for our clients.
Our business is family-owned and managed. Through three generations of family ownership, we have remained true to our founder's original vision of providing a seamless moving experience with integrity and respect.
We Will Move Anything Anywhere
We Have 800 Locations Nationwide
The Customer is Always Right
With a massive network of trucks and storage facilities across the country, Freedom Moving & Storage can help you move anything, anywhere around the country. Throughout the entire journey, we will communicate with you to ensure you're kept in the loop at all times.
We offer point-to-point hauling and transport services to over 800 locations around the country and 1200 locations globally. From Water Mill, NY, we will transport your goods without the need for third-party transfers to minimize the risk of damage and loss.
Communication is a key part of our services. Whatever you need, we will make sure to accommodate all your special requests and answer whatever questions you may have because your satisfaction matters to us.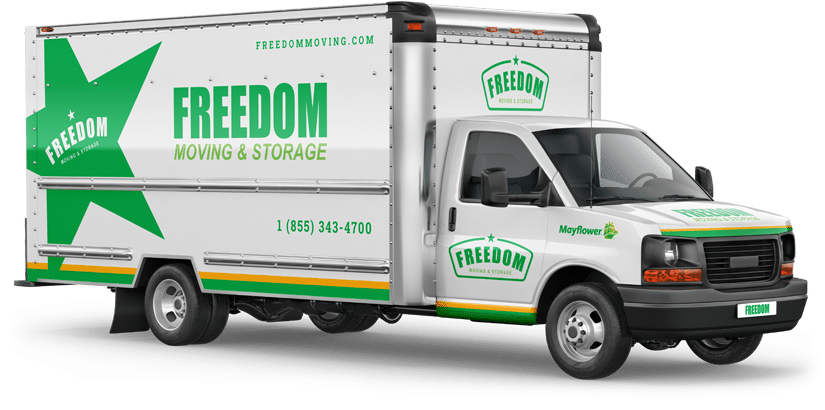 From your first moving consultation, our team of seasoned New Jersey and New York moving professionals make your home or office transition seamless and 100% stress-free.
What Our Customers in Water Mill, New York are Saying
"Everyone at Freedom made it stress-free and painless to move. It was a big move from a house to an apartment."
"Freedom jumped right in and in four days they were at our door, ready to load the truck with our things. The men were courteous, super-fast, and careful with our furniture and our many many boxes."
"Freedom Moving and Storage took excellent care of my elderly Father's needs. Josh was organized, thorough, compassionate, and kind. His calm demeanor was such a relief. His crew was very efficient and hard working!"