Local Movers Who Offer Custom Solutions and Storage Options
Freedom Moving & Storage is dedicated to providing reliable moving and storage solutions for individuals and businesses in New York.
Situated in Mamaroneck, NY, we have established a robust network of top-notch moving and storage service providers, both domestically and internationally. Through close collaboration with our trusted partners, our aim is to ensure your move is as stress-free as possible.
Whether your move is local or long-distance, our team of committed movers in Mamaroneck, NY, is here to assist you.
Embarking on a new adventure in a different home and neighborhood is an exhilarating journey. Let our experienced movers handle the heavy lifting, guaranteeing a seamless moving day experience for you and your loved ones. With our support, you can eagerly anticipate a smooth transition to your new space.
Moving Company in Mamaroneck, NY
When You're Ready to Move, We Get Moving
Residential Moving in Mamaroneck, NY
Commercial Moving in Mamaroneck, NY
Storage Services in Mamaroneck, NY
Moving to a new residence is a task that often involves exhaustive planning and can be quite demanding. However, you can now savor valuable moments with your loved ones and leave the stress behind, thanks to Freedom Moving & Storage. We are here to handle all the complexities of your move.
Our devoted team of Mamaroneck, NY movers will manage every aspect, whether it's comprehensive packing services, the secure transportation of your possessions across cities or even states, or convenient car transport services. We're also well-prepared to facilitate seamless international moves tailored to your unique needs. With our support, you can begin your new journey with peace of mind and focus on creating enduring memories with your closest friends and family.
When it comes to establishing a new business headquarters, count on our distinguished commercial moving company in Mamaroneck, NY, to provide outstanding service. With years of experience in both local and long-distance moves, Freedom Moving & Storage is well-equipped to cater to a wide array of business needs.
We provide top-tier packing materials, dependable business storage solutions, and an extensive fleet of well-maintained moving trucks. By enlisting the services of our expert and dedicated commercial movers near Mamaroneck, NY, you can streamline the moving process for yourself and your employees. With our support, you can focus on the smooth transition of your operations to your new corporate base.
At Freedom Moving & Storage, we take great pride in our cutting-edge warehouse facility featuring around-the-clock security measures. As one of the few moving companies in the region with the ownership and operation of such a facility, we provide a variety of storage solutions designed to cater to a wide range of customer demands.
You have the option to select from our versatile mobile and containerized storage offerings, which can be further tailored to align with your specific needs. Leveraging our extensive expertise and committed workforce, we are fully prepared to address all your warehousing requirements, encompassing inventory management, meticulous product inspections, secure facilities for fine art storage, and more. Be assured that your possessions are in capable hands when you opt for our dependable storage services.
Specialty Moving Solutions
Full-Service Packing Company
At Freedom Moving & Storage, we recognize that each person, family, or business possesses distinct moving demands and desires. Our team of committed moving experts dedicates time to meticulously evaluate your individual requirements and customize our services to precisely fit your needs. Be it for residential or commercial moving, whether it's a local or long-distance relocation in Mamaroneck, NY, you can rely on our trustworthy professionals. Reach out to us, and allow us to deliver the tailored moving experience that you rightly deserve.
If you're in need of help with packing your belongings, whether it's heavy furniture, appliances, or delicate dinnerware, our proficient packing crew at Freedom Moving & Storage is ready to assist you. We utilize various packing materials and strategies to guarantee the secure transportation of all your items to your new residence. Count on the expertise of our dependable movers in Mamaroneck, NY, to ensure a hassle-free and stress-free moving process. Get in touch with us today, and allow us to manage your packing requirements with care and efficiency.
As an esteemed moving company based in Mamaroneck, NY, we are pleased to provide specialized vehicle transport services that distinguish us from the competition. With our seasoned team, meticulously maintained vehicles, and cutting-edge equipment, we ensure the safe and secure transportation of your vehicles.
Whether you need to move a car, motorcycle, or any other vehicle, our dedicated moving experts will treat it with the highest level of care, ensuring its arrival at the destination in pristine condition. Reach out to Freedom Moving & Storage today for further information about our vehicle transport services and to obtain a customized quote.
Why Choose Freedom Moving & Storage as Your Local Movers in Mamaroneck, NY
Rely on Local Movers Who Have Kept on Moving for 80+ Years
We Have 8,000 Moving Trucks
We've Been in Business Since 1939
Third-Generation Family Ownership
Being a respected affiliate of Mayflower Van Lines, Freedom Moving & Storage benefits from access to an extensive array of moving vehicles. This grants us the capability to efficiently manage both truckload and less than truckload (LTL) shipments. Whether you possess a substantial volume of goods necessitating an entire truck or a smaller shipment that can be combined with others, our team is fully prepared to accommodate your precise shipping demands. Count on us to deliver effective and trustworthy transportation solutions customized to align with your unique requirements.
Boasting a storied legacy that extends over eight decades, we have painstakingly nurtured our expertise and broadened our connections to furnish unparalleled moving and storage solutions in Mamaroneck, NY. Our resolute dedication to achieving excellence has propelled us to perpetually aim for distinction and uphold remarkable benchmarks for each and every client we assist. Have faith in us to exceed your expectations, as we infuse your relocation journey with our wealth of experience and unwavering commitment.
At Freedom Moving & Storage, we extend our services beyond the mere transportation of furniture; we accompany families on their moving journey. Being a cherished family-owned and operated establishment, we approach each client with genuine care, considering their distinct needs and desires. Our unwavering commitment to delivering customized service guarantees that your move is more than just a logistical procedure; it's a considerate and attentive experience tailored to fulfill your family's unique requirements.
We Will Move Anything Anywhere
We Have 800 Locations Nationwide
The Customer is Always Right
With our extensive network of moving and storage facilities strategically situated across numerous cities, states, and even international locations, we possess the complete capacity to address your diverse moving demands. Whether you're transitioning to a new city, state, or even a different country, our widespread network empowers us to adeptly manage your move, guaranteeing a streamlined and effective shift to your new destination.
Through our vast system of 800 branches strategically positioned across the United States, Freedom Moving & Storage consistently guarantees the safekeeping of your cherished belongings under the diligent supervision of our highly skilled and dedicated team. We uphold a commitment to never entrust your valuable possessions to third-party entities, assuring you of the assurance that our seasoned experts will manage every aspect of your move, ensuring a seamless journey from commencement to conclusion.
At Freedom Moving & Storage, our foremost commitment revolves around delivering outstanding services that not only meet but surpass the expectations of our valued customers. Our dedication extends to exceeding the ordinary to guarantee your complete satisfaction. With a team of adept moving coordinators at your service, we possess the capability to manage any unique requests and maintain you thoroughly informed at every juncture of the moving journey. Rest assured, your requirements take precedence in our mission, and our pledge is to provide an unparalleled experience tailored precisely to your needs.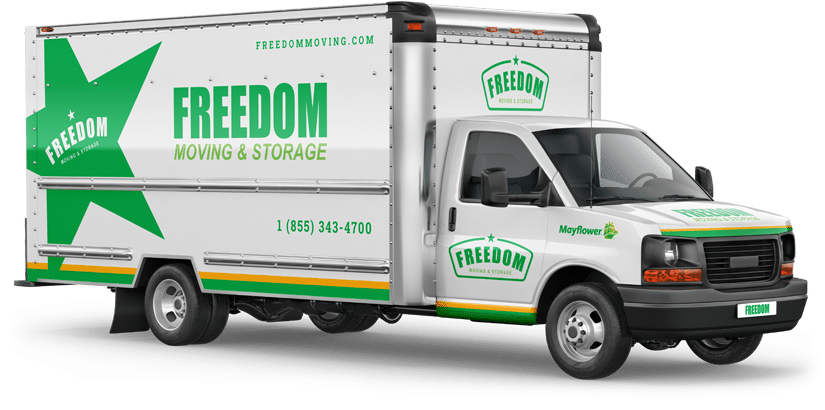 From your first moving consultation, our team of seasoned New Jersey and New York moving professionals make your home or office transition seamless and 100% stress-free.
What Our Customers in Mamaroneck, NY are Saying
"Everyone at Freedom made it stress-free and painless to move. It was a big move from a house to an apartment."
"Freedom jumped right in and in four days they were at our door, ready to load the truck with our things. The men were courteous, super-fast, and careful with our furniture and our many many boxes."
"Freedom Moving and Storage took excellent care of my elderly Father's needs. Josh was organized, thorough, compassionate, and kind. His calm demeanor was such a relief. His crew was very efficient and hard working!"