Local Movers Who Offer Custom Solutions and Storage Options
Freedom Moving & Storage is dedicated to providing reliable moving and storage solutions for both individuals and businesses in New York.
Located in Scarsdale, NY, we are a well-respected moving company with a vast network of top-quality moving and storage service providers, both nationally and internationally. Through close collaboration with our trusted partners, we work tirelessly to ensure that your move is as stress-free as possible.
Whether you're moving from nearby or far away, our team of committed short and long-distance movers in Scarsdale, NY, is here to offer a helping hand.
Embarking on a new chapter in a different home and neighborhood is an exciting adventure. Let our seasoned movers handle the heavy lifting, ensuring a seamless moving day experience for you and your family. With our support, you can eagerly anticipate a smooth transition into your new space.
Your Local Scarsdale, NY Moving Company
When You're Ready to Move, We Get Moving
Residential Moving in Scarsdale, NY
Commercial Moving in Scarsdale, NY
Storage Services in Scarsdale, NY
Moving to a new residence often entails a taxing and time-consuming process that necessitates careful planning. However, when you engage the services of Freedom Moving & Storage, you can savor precious moments with your loved ones without the stress, as we expertly manage all the intricacies of your move.
Our devoted team of movers in Scarsdale, NY, takes charge of every aspect, from offering comprehensive packing services to ensuring the secure transport of your belongings, whether it's across cities or even states. Moreover, we extend the convenience of car transport services and can smoothly facilitate international moves customized to your specific needs. With our dedicated support, you can embark on your new journey with confidence and devote your attention to creating enduring memories with your dearest friends and family.
When it comes to establishing a new corporate headquarters, you can place your trust in our esteemed commercial moving company in Scarsdale, NY, to provide outstanding service. Armed with years of expertise in both local and long-distance relocations, Freedom Moving & Storage is well-equipped to address a wide array of business needs.
We offer top-of-the-line packing materials, dependable business storage solutions, and an expansive fleet of carefully maintained moving trucks. By enlisting the services of our adept and seasoned movers near Scarsdale, NY, you can streamline the moving process for both you and your employees. With our support, you can devote your attention to effortlessly transitioning your operations to your new corporate hub.
At Freedom Moving & Storage, we take great pride in our state-of-the-art warehouse facility located in Scarsdale, NY, which comes equipped with round-the-clock security measures. We stand among the select few moving companies in the region with the capability to own and operate such an advanced facility.
Our commitment to providing diverse storage solutions tailored to meet our customers' unique needs is unwavering. You have the option to select from our versatile mobile and containerized storage solutions, which can be further customized to align with your specific requirements. Our wealth of experience and dedicated workforce positions us well to address all your warehousing needs, encompassing inventory management, thorough product inspections, secure fine art storage facilities, and more. Be confident that your cherished belongings are in capable hands when you opt for our dependable storage services.
Specialty Moving Solutions
Full-Service Packing Company
At Freedom Moving & Storage, we fully grasp the fact that each individual, family, or business comes with distinct moving needs and preferences. Our squad of committed moving experts invests the necessary effort to thoroughly evaluate your particular requirements and adapt our services for your utmost satisfaction.
Whether you find yourself in demand of commercial or residential moving services, be it for a local or long-distance move in Scarsdale, NY, rest assured that we are the dependable professionals you can place your trust in. Feel free to reach out to us, and allow us the privilege of delivering the tailored moving experience that you rightfully deserve.
If you need help with the task of packing your possessions, whether it be heavy furniture, household appliances, or fragile china, you can entrust this responsibility to the adept packing crew at Freedom Moving & Storage. Our team utilizes a variety of packing materials and methods to guarantee the secure transit of all your belongings to your new residence.
With the competence of our dependable movers in the vicinity of Scarsdale, NY, you can confidently anticipate a seamless and stress-free moving journey. Do not hesitate to get in touch with us today, and allow us the privilege of handling your packing requirements with utmost care and precision.
As a local moving company located in Scarsdale, NY, we find great satisfaction in presenting our distinctive vehicle transportation services, which distinguish us in the industry. With our team of seasoned professionals, a meticulously maintained fleet of vehicles, and state-of-the-art equipment, we assure you of the safe and secure conveyance of your vehicles.
Be it an automobile, a motorcycle, or any other type of vehicle, our skilled movers handle each with the utmost care, ensuring their arrival at the intended destination without a single blemish. Do not hesitate to reach out to Freedom Moving & Storage today to delve deeper into the details of our vehicle transport services and obtain a personalized quote.
Why Choose Freedom Moving & Storage as Your Movers in Scarsdale, NY
Rely on Local Movers Who Have Kept on Moving for 80+ Years
We Have 8,000 Moving Trucks
We've Been in Business Since 1939
Third-Generation Family Ownership
As a trusted partner of Mayflower Van Lines, Freedom Moving & Storage enjoys the strategic advantage of possessing an extensive array of moving vehicles at our disposal. This strategic resource empowers us to proficiently manage both full truckload and less than truckload (LTL) shipments, adapting effortlessly to the scale of your consignment. Whether you have a lot of belongings necessitating an entire truck or a smaller load that can be efficiently consolidated with others, our adept team stands fully prepared to address your distinct shipping prerequisites. Count on us to deliver streamlined and trustworthy transportation solutions, diligently tailored to your unique demands.
With a storied legacy extending over eight decades, we've been dedicated to nurturing our expertise and broadening our connections to provide unmatched moving and storage solutions in Scarsdale, NY. Our steadfast pledge to excellence has motivated us to perpetually pursue the highest standards, a commitment we extend to each and every one of our valued customers. Rely on us to surpass your expectations, leveraging our extensive experience and unwavering dedication to enrich your relocation experience.
At Freedom Moving & Storage, we don't just move your possessions; we accompany families on their journey. As a family-owned and operated business, we treat each customer with the highest level of care and authenticity, always considering their distinct needs and preferences. Our commitment to delivering personalized service means that your move isn't merely a logistical task; it's a considerate and thoughtful experience tailored to your family's specific requirements.
We Will Move Anything Anywhere
We Have 800 Locations Nationwide
The Customer is Always Right
With our extensive web of moving and storage facilities stretching across numerous cities, states, and even international borders, we possess the full capabilities to address all of your moving needs. Regardless of whether you're moving to another city, state, or country, our expansive network empowers us to adeptly manage your relocation, guaranteeing a seamless and efficient transition to your new destination.
Utilizing our vast network of 800 branches spanning across the United States, Freedom Moving & Storage guarantees the consistent care and attention of our dedicated and highly trained personnel for your belongings. We maintain full control over your valuable possessions, never outsourcing to third parties, ensuring your peace of mind as our seasoned professionals manage your entire move, from inception to completion.
At Freedom Moving & Storage, our primary focus is delivering outstanding services that not only meet but surpass our customers' expectations. Our commitment to your satisfaction drives us to consistently go above and beyond. Our team of experienced moving coordinators is well-prepared to manage any unique requests, ensuring you stay informed at every juncture of your move. Your requirements hold the utmost importance for us, and our dedication remains unwavering in providing you with the finest possible moving experience.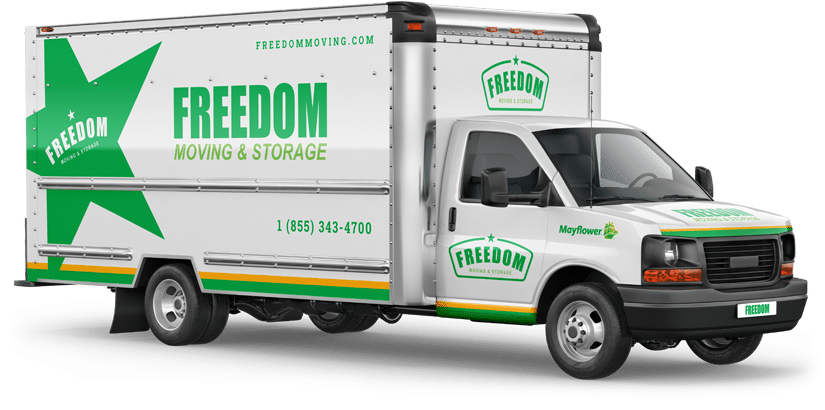 From your first moving consultation, our team of seasoned New Jersey and New York moving professionals make your home or office transition seamless and 100% stress-free.
What Our Customers in Scarsdale, NY are Saying
"Everyone at Freedom made it stress-free and painless to move. It was a big move from a house to an apartment."
"Freedom jumped right in and in four days they were at our door, ready to load the truck with our things. The men were courteous, super-fast, and careful with our furniture and our many many boxes."
"Freedom Moving and Storage took excellent care of my elderly Father's needs. Josh was organized, thorough, compassionate, and kind. His calm demeanor was such a relief. His crew was very efficient and hard working!"