Moving Company in Bridgeport, Connecticut
Local Movers Who Offer Custom Solutions and Storage Options
Looking for professional movers in Bridgeport in Fairfield County? When moving to a new residence or office in Bridgeport, you'll encounter a multitude of other factors to contend with.
In addition to the traffic congestion, you'll need to grapple with parking constraints, variable seasonal weather conditions, the intricacies of coordinating logistics, and the complexities of adhering to local regulations. Given these challenges, it becomes paramount to enlist the services of a reliable moving company in Bridgeport, CT.
We're intimately familiar with the intricacies of transitioning to a new location in Bridgeport. Our expertise extends to navigating the maze of traffic and ensuring strict compliance with local regulations. Our ultimate aim is to facilitate a seamless move to your new home, alleviating your worries along the way.
Your Movers in Bridgeport, CT
When You're Ready to Move, We Get Moving
Residential Moving in Bridgeport
Commercial Moving in Bridgeport
Storage Services in Bridgeport
At Freedom Moving & Storage, our skilled experts are the go-to choice for long-distance moves in Bridgeport, CT. With extensive experience in managing the intricacies of local logistics, including navigating building regulations and adhering to parking restrictions, we are your partners in a successful move. Our comprehensive services encompass packing, loading, and unpacking your possessions, all meticulously executed to guarantee a seamless and highly efficient transition to your new destination.
As a prominent relocation company in Bridgeport, CT, we excel in delivering seamless and highly efficient office and commercial space moves. Our expertise covers every facet of your business's transition to its new location. We execute the move swiftly and with precision, minimizing downtime and enabling you to swiftly resume your business operations.
We are comprehensive moving specialists in proximity to Bridgeport, CT. Regardless of whether you're in the midst of renovations, transitioning to a new location, or optimizing your operations, we can offer the additional storage capacity required for your possessions. Our storage solutions are adaptable, ensuring the secure storage of your equipment without putting undue pressure on your finances.
Specialty Moving Solutions
Full-Service Packing Company
At Freedom Moving & Storage, we stand out among the Bridgeport, CT movers by offering specialized moving services tailored to guarantee the secure and reliable transportation of valuable assets, fragile possessions, and oversized items. Our seasoned team is well-prepared to manage a diverse range of items, from precious artwork to delicate electronic equipment.
As a respected full-service moving company operating in Bridgeport, CT, we offer extensive packing services designed to guarantee the secure and protected transport of your belongings. Our highly trained team utilizes top-quality packing materials to safeguard your possessions. We understand that each customer comes with unique requirements, and we pride ourselves on delivering customized and adaptable solutions.
As one of the reliable long-distance moving companies in Bridgeport, CT, we specialize in the secure transportation of vehicles over extensive distances, including interstate moves. Our dedicated team manages all the logistical aspects of vehicle transportation, ensuring the safe and damage-free relocation of your vehicle. This service not only protects your vehicle from wear and tear but also minimizes mileage accumulation during the move.
Why Choose Freedom Moving & Storage as Your Movers Near Bridgeport, CT
Rely on Local Movers Who Have Kept on Moving for 80+ Years
We Have 8,000 Moving Trucks
We've Been in Business Since 1939
Third-Generation Family Ownership
We stand out among the moving companies in Bridgeport, CT, due to our ability to manage relocations of all scales. Our extensive fleet is capable of accommodating substantial volumes of materials and equipment, making us well-prepared for any moving task, regardless of its size.
With a remarkable 84 years of industry experience, we proudly demonstrate our commitment to delivering top-notch service. Our seasoned team comprehends the challenges that come with relocating to a new residence or facility and is fully prepared to manage your move efficiently.
Freedom Moving & Storage stands as a testament to three generations of family ownership and operation. Our enduring legacy revolves around the delivery of dependable and effective service. Guided by our core values and unwavering mission, our team consistently provides exceptional service.
We Will Move Anything Anywhere
We Have 800 Locations Nationwide
The Customer is Always Right
As a seasoned, comprehensive moving company, we possess the knowledge and tools necessary to manage both local and cross-country relocations. You can utilize our state-of-the-art facilities, equipment, and extensive expertise to guarantee a smooth transition to any destination nationwide.
Freedom Moving & Storage strategically maintains a network of more than 800 locations across the country. This expansive reach allows us to deliver top-tier services to individuals and businesses across the entire nation. We prioritize the safety of your belongings, significantly minimizing the chances of damage during transit.
Freedom Moving & Storage takes a personalized approach to our services, customizing them to precisely match your unique requirements. Your contentment remains our utmost concern, prompting us to go to great lengths to guarantee a swift and effective move by incorporating cutting-edge tools and methods.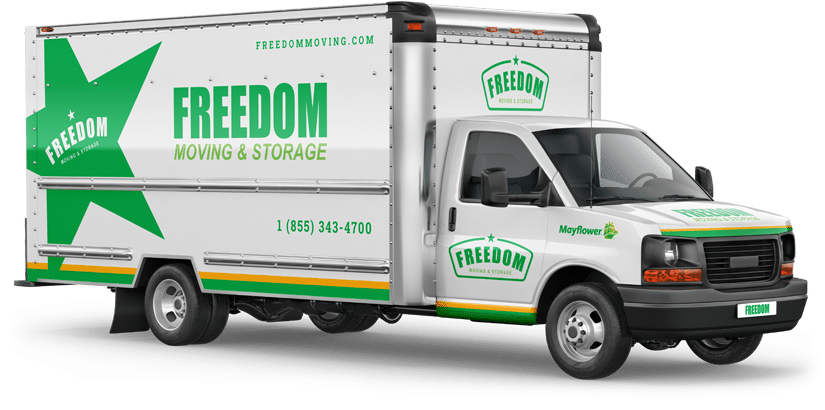 From your first moving consultation, our team of seasoned New Jersey and New York moving professionals make your home or office transition seamless and 100% stress-free.
What Our Customers in Bridgeport, Connecticut are Saying
"Everyone at Freedom made it stress-free and painless to move. It was a big move from a house to an apartment."
"Freedom jumped right in and in four days they were at our door, ready to load the truck with our things. The men were courteous, super-fast, and careful with our furniture and our many many boxes."
"Freedom Moving and Storage took excellent care of my elderly Father's needs. Josh was organized, thorough, compassionate, and kind. His calm demeanor was such a relief. His crew was very efficient and hard working!"