Local Movers Who Offer Custom Solutions and Storage Options
If you're on the hunt for reliable and efficient moving services in Port Chester, NY, your search ends here with Freedom Moving & Storage.
Moving to a new residence or office in Port Chester comes with its unique set of challenges. Seasonal restrictions, limited service windows, traffic congestion, and adherence to local regulations can all make the process daunting, particularly if it's your first time relocating here.
At Freedom Moving & Storage, we are well-versed in these local intricacies, making us the preferred choice for a moving company in Port Chester, NY. Our experienced team will expertly navigate the local regulations, ensuring a seamless and stress-free move. Place your trust in us to handle your relocation with the utmost care and professionalism.
Your Local Port Chester, NY Moving Company
When You're Ready to Move, We Get Moving
Residential Moving in Port Chester
Commercial Moving in Port Chester
Storage Services in Port Chester
At Freedom Moving & Storage, our committed team of certified professionals possesses the expertise and capabilities needed to optimize your move seamlessly. With an unwavering focus on precision, our services encompass a wide spectrum, including packing, transportation, loading, unloading, and unpacking.
As trusted long-distance movers operating in Port Chester, NY, we hold your time in high regard and are dedicated to transforming the entire moving experience into a stress-free endeavor. Have confidence in our ability to manage your relocation with efficiency and utmost care.
Being a well-regarded moving company in Port Chester, NY, Freedom Moving & Storage is dedicated to providing exceptional service to our esteemed clientele. Our team of professionals is fully prepared with the essential equipment and materials to protect your valuable supplies and equipment during the move.
Furthermore, we offer comprehensive liability coverage to guarantee the safety and security of your possessions throughout the transportation process. Count on us to manage your move with the highest degree of care, delivering the peace of mind you rightfully expect.
Freedom Moving & Storage is your trusted partner for a wide array of moving services in the vicinity of Port Chester, NY, and this includes versatile and user-friendly temporary storage options. Our advanced facilities are purpose-built to house your supplies and equipment, facilitating effective inventory management during your move. Be assured, the security and safeguarding of your possessions are of paramount importance to us when they are in our custody.
Our storage facilities play a pivotal role in optimizing your moving journey, granting you the tranquility you seek throughout the entire transition.
Specialty Moving Solutions in Port Chester
Full-Service Packing Company in Port Chester
Car Transport Services in Port Chester
Freedom Moving & Storage is your dedicated partner in Port Chester, NY, offering specialized moving solutions meticulously crafted to handle delicate and high-value items with the utmost care. Whether you possess fine art, pianos, antiques, wine collections, IT equipment, or any other special items demanding exceptional attention, our seasoned team is well-prepared to manage them.
We comprehend the distinct challenges entailed in relocating such items, whether due to their dimensions, weight, intricacy, or fragility. You can be at ease, knowing we possess the proficiency and resources required to ensure their safe and secure transportation to your new destination.
Freedom Moving & Storage recognizes the significance of meticulous packing in guaranteeing the secure transfer of your possessions during your Port Chester, NY move. Being a full-service moving company, we provide all-encompassing packing solutions to enhance the convenience of your relocation.
Our adept team of professionals will oversee the complete packing procedure, employing top-tier packing techniques and materials. This not only conserves your precious time and energy but also assures that your belongings are expertly packed and primed for their journey to your new location.
At Freedom Moving & Storage, we have extensive expertise in transporting vehicles safely and securely as trusted long-distance movers in Port Chester, NY. Whether you need to move your car across the country or facilitate a remote buying or selling process, our team is here to assist you. We offer both open and enclosed car transport options, providing the utmost care and protection for your vehicle during the journey.
With our reliable car transport services, you can have peace of mind knowing that your car will be transported across state lines with the highest level of care and professionalism.
Why Choose Freedom Moving & Storage as Your Movers Near Port Chester, NY
Rely on Local Movers Who Have Kept on Moving for 80+ Years
We Have a Fleet of 8,000 Moving Trucks
We've Been Moving Since 1939
3rd Generation Family Ownership
At Freedom Moving & Storage, we find satisfaction in our standing as a premier Port Chester, NY based moving company, known for our capacity to manage moves of various sizes. The sizable fleet of trucks at our disposal guarantees our ability to address your moving demands promptly and effectively.
Be it a modest residential move or an expansive commercial relocation, our fully-equipped trucks stand prepared to handle the transportation of your possessions with the utmost attentiveness and accuracy. Rest assured, we're your dependable choice for moving services characterized by reliability and efficiency, always tailored to your distinct needs.
With an illustrious history spanning 84 years, we've remained steadfast in delivering secure and effective moving services to individuals, families, and enterprises alike. Our enduring tenure in the industry underscores our unwavering dedication to providing unparalleled service. When you select us, rest assured that we'll manage each facet of your move with consummate skill and diligence.
From the outset to the conclusion, we'll adeptly navigate the intricacies of your relocation, ensuring it unfolds as a seamless and trouble-free journey. Allow us to take the helm and transform your move into a smooth expedition.
At Freedom Moving & Storage, we deeply value our heritage as a third-generation family-owned and operated enterprise. Our source of pride lies in the considerate and tailored service we offer, preserving the ethical standards and business ethics transmitted across numerous generations. Anticipate an unwavering pursuit of superiority and an unyielding pledge to guarantee your contentment as we perpetuate the heritage of offering first-rate service.
We Will Move Anything Anywhere
We Have 800 Locations Nationwide
The Customer is Always Right
As a comprehensive moving company, we possess the knowledge and adaptability to manage moves of all kinds. Our skilled team is proficient in handling both local and long-distance relocations, and we are fully equipped to transport a wide range of materials, furniture, and equipment. Regardless of the complexity or scale of your move, you can rely on our expertise to ensure a smooth and successful transition.
With an extensive network of over 800 locations spanning the entire nation, Freedom Moving & Storage is strategically positioned to cater to your requirements no matter where you are in the country. Our wide-reaching presence enables us to deliver efficient and dependable services to customers across various locations. Whether you're moving locally or embarking on a long-distance journey, you can trust us to provide the assistance you need.
We prioritize your utmost satisfaction throughout every stage of your move. Our dedicated team customizes our services to specifically address the unique requirements of your relocation, ensuring a seamless, swift, and efficient experience. Your contentment is our ultimate goal, and we strive to exceed your expectations in every way possible.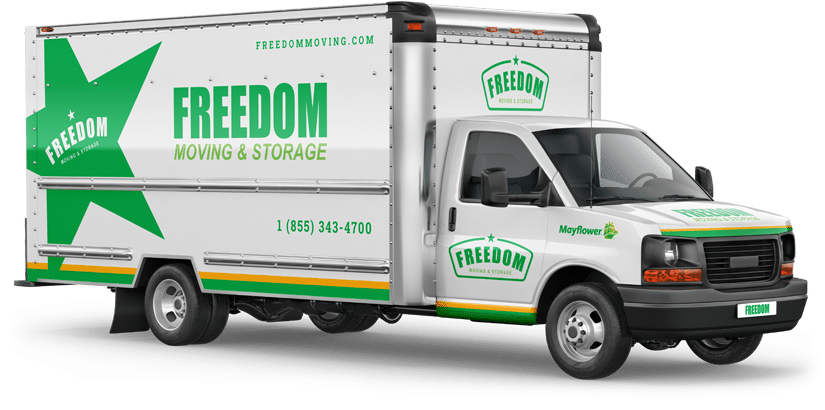 From your first moving consultation, our team of seasoned New Jersey and New York moving professionals make your home or office transition seamless and 100% stress-free.
What Our Customers in Port Chester, NY are Saying
"Everyone at Freedom made it stress-free and painless to move. It was a big move from a house to an apartment."
"Freedom jumped right in and in four days they were at our door, ready to load the truck with our things. The men were courteous, super-fast, and careful with our furniture and our many many boxes."
"Freedom Moving and Storage took excellent care of my elderly Father's needs. Josh was organized, thorough, compassionate, and kind. His calm demeanor was such a relief. His crew was very efficient and hard working!"