Movers in Fairfield County, Connecticut
Local Movers Who Offer Custom Solutions and Storage Options
Whether you're embarking on a residential move or the relocation of your business office, Freedom Moving & Storage is your trusted partner. We provide an extensive array of services aimed at simplifying your move and ensuring a smooth shift to your new address.
Within our repertoire of solutions for both residential and commercial needs, we encompass storage options, professional packing services, specialized moving expertise, and top-tier warehousing facilities. Our dedicated team of local and long-distance movers in Fairfield County is equipped with the requisite training, skills, and cutting-edge equipment to guarantee a seamless and stress-free moving process.
Your Local Moving Company in Fairfield County, CT
When You're Ready to Move, We Get Moving
Residential Moving in Fairfield County, CT
Commercial Moving in Fairfield County, CT
Storage Services in Fairfield County, CT
We acknowledge that the process of moving can be both emotionally taxing and highly stressful. That's precisely why our dedicated team of movers in Fairfield County goes the extra mile to guarantee a hassle-free relocation.
What sets our Fairfield County, CT movers apart is their local expertise. They possess an intimate knowledge of the most efficient and secure routes to swiftly transport your belongings to your new residence, ensuring both speed and safety throughout the journey.
We meticulously and promptly prepare all your essentials for the transition from your former business site to its new destination.
Rest assured, our Fairfield, CT movers are your reliable partners in ensuring the safeguarding of your equipment, furniture, and all other possessions throughout the entire moving process, taking every necessary measure to prevent damage or loss.
Freedom Moving & Storage is dedicated to delivering a comprehensive range of solutions, designed to make your move smooth and trouble-free. Our offerings encompass various services, including storage solutions.
Should you require storage for your furniture, office gear, or any other belongings, don't hesitate to get in touch. Our Fairfield County, CT movers are readily available to engage in a discussion about the storage alternatives that best align with your needs.
Specialty Moving Solutions
Full-Service Packing Company
Recognizing the unique needs of special items, our dedicated team of movers in Fairfield, Connecticut goes the extra mile to not only meet but exceed our clients' expectations. Our specialty moving services encompass a broad spectrum, ranging from white glove service to climate-controlled shipping, as well as wine transportation and more. Additionally, we provide last-mile logistics to further enhance your moving experience.
Rather than dedicating countless hours to packing, consider enlisting the support of one of Fairfield, Connecticut's most reliable moving teams. We are well-equipped to manage all your packing needs, whether it involves expertly crating oversized or uniquely shaped items or guaranteeing the safe arrival of your delicate china collection at your new residence.
There's no need to search elsewhere when it comes to relocating your vehicle to your new destination. In addition to our regular moving services, our Fairfield County, CT movers also provide dependable car transport services. We can efficiently transport your vehicle from your Fairfield County location to any destination within the United States. To keep you informed about your car's journey to its new destination, our moving trucks are equipped with GPS tracking capabilities.
Why Choose Freedom Moving & Storage as Your Movers in Fairfield County, CT
Rely on Local Movers Who Have Kept on Moving for 80+ Years
We Have 8,000 Moving Trucks
We've Been in Business Since 1939
Third-Generation Family Ownership
We proudly serve as a reliable partner for Mayflower, a company that boasts an extensive fleet of over 8,000 trucks spanning the nation. Additionally, Freedom Moving & Storage maintains its own fleet, comprising more than 35 moving trucks and a dedicated team of over 65 full-time moving experts.
Ensuring the safety of your furniture, appliances, equipment, and personal belongings is our top priority. With over seven decades of experience in the industry, we have built a stellar reputation for consistently delivering successful and secure moves.
For more than eight decades, Freedom Moving & Storage has remained under the ownership and operation of a single family. Our enduring success and longevity in the industry stem from our unwavering commitment to ensuring customer satisfaction. We infuse a personalized approach into every service we provide, striving not only to meet but to surpass our customers' expectations.
We Will Move Anything Anywhere
We Have 800 Locations Nationwide
The Customer is Always Right
Whether it's the relocation of a life-sized marble statue to your new out-of-state residence or the transportation and secure storage of your valuable fine art collection, rest assured that we possess the knowledge, skills, and extensive resources to execute a seamless and prosperous move, regardless of its scale or intricacy.
No matter your location within the United States, you can be confident that there's a Freedom Moving & Storage branch conveniently nearby. This proximity ensures that you won't have to venture far to discover a reliable and trustworthy partner for all your moving, storage, and packing requirements. When it comes to interstate moves, you can rely on our adept long-distance movers in Fairfield County to deliver an efficient and secure relocation experience. Additionally, we extend our services to encompass international moving solutions for your convenience.
The cornerstone of our success has undeniably been our cherished customers, and we hold in high regard the strong and enduring connections we've forged with them throughout our extensive tenure in the industry. Every project, whether it pertains to moving, storage, or packing, is undertaken with meticulous care and an unwavering commitment to ensuring customer satisfaction.
Our dedicated team is enthusiastic about customizing our solutions to accommodate individual requirements and readily tackling any concerns that may arise.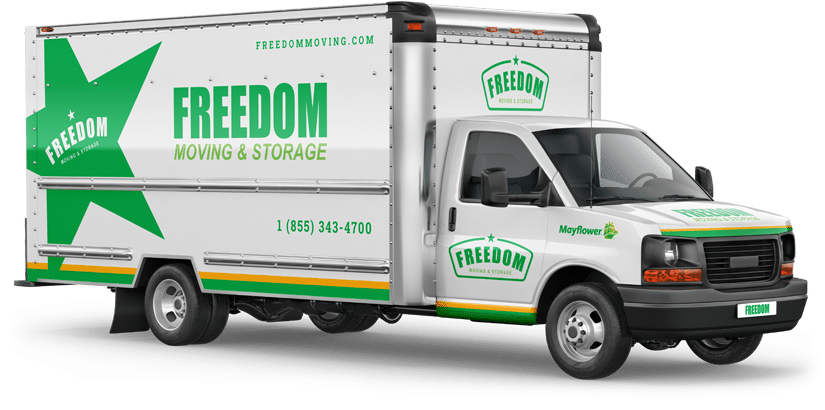 From your first moving consultation, our team of seasoned New Jersey and New York moving professionals make your home or office transition seamless and 100% stress-free.
What Our Customers in Fairfield County, Connecticut are Saying
"Everyone at Freedom made it stress-free and painless to move. It was a big move from a house to an apartment."
"Freedom jumped right in and in four days they were at our door, ready to load the truck with our things. The men were courteous, super-fast, and careful with our furniture and our many many boxes."
"Freedom Moving and Storage took excellent care of my elderly Father's needs. Josh was organized, thorough, compassionate, and kind. His calm demeanor was such a relief. His crew was very efficient and hard working!"